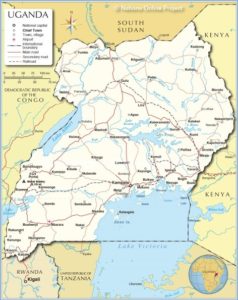 Uganda where we work is a landlocked country, located in East Africa. The land is mostly a plateau, with a rim of mountains and the tropical climate creating luxurious forests. The "pearl" of Uganda is Lake Victoria, which is the source of the River Nile.
Agriculture employs 85% of the population, and small garden plots dot the landscape. Crops include coffee, maize, bananas, sugarcane, potatoes, cassava and rice.
Poverty, illiteracy, gender inequality and domestic violence are some of the challenges women have to deal with every day in Uganda. Malaria and HIV/AIDS are still occurring in high numbers and ultimately infringing on the lives of the vulnerable women and children.
SustainME is working locally in Nyenga area, near Jinja, about 85 km east of Kampala. Our office is located close to the villages where our women are, because that makes us easily approachable to the women we work with. Majority of the women are from remote rural villages in the area. They are reachable only by narrow roads in the beautiful landscape of Lake Victoria.
Nyenga community where we work is an area where economy is built on small businesses. Large industrial companies are not present, and the land is owned to a big extent by the church. Supporting  micro businesses is a perfect way to empower women in villages and support them fight poverty.
Statistics about vulnerable women in Uganda
75% of the vulnerable women do not own property *International Justice Mission 2015*
1 in every 3 women find it difficult to access finances in bank *International Justice Mission 2015
Two in every ten girls leave school due to pregnancy and three in every ten girls leave school for marriage. *Uganda Bureau of Statistics 2016
You may look at these statistics and wonder "Can I really make a difference?" Yes! We truly believe your donation and support  towards empowering a  woman and a family through economic empowerment, small startup loans and seed grants, and healthcare  is the ideal way to change a life.
Your gift will help the vulnerable women and their families to break the cycle of poverty and live happily.