Sikandar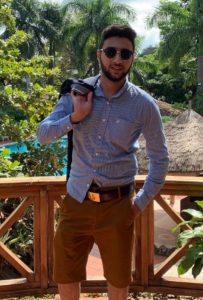 "I rejuvenated my energy for the final push but in vein. Our car was jammed in the swap. Meanwhile, the intensity of the downpour increased. Seconds after my host dad and I exchanged miserable looks, a boda boda driver stopped and offered help. Seeing him, other members started joining and soon, we were able to get relief. I wouldn't deny that on my second day in Uganda I learned that the community is very helpful and loving."
Muhammad Sikandar Ali Chaudary is a rising junior, pursuing Journalism and Strategic Communication from Northwestern University in Qatar. As a journalist, he wants to elevate the socio-economic conditions of marginalized communities. Previously, he has worked with prestigious media organizations, including Aljazeera. Apart from his interest in journalism, he is an avid community worker, a passionate debater and social media enthusiast.
He joined Sustain Micro Enterprise as an intern to understand the intricacies of development work in Uganda and more specifically, to adopt the values of our organization that has led us to earn international fame in a limited timeframe. Sikandar, who is called as Ali by almost everyone in Uganda, says he joined SME to closely analyze our sustainable agenda and implement it in Pakistan.
"SME is a beacon of hope for women who barely have any financial set up to generate income," he said. "It's a safe haven for vulnerable women, regardless of their religious or political association."
Sikandar loves reading classic authors. His all-time favorite novel is Anna Karenina by Leo Tolsty. If you want to know about Sikandar, shoot him a message on Facebook.
Tyler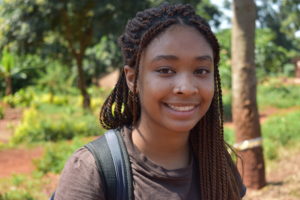 Tyler is a rising senior at Northwestern University Evanston campus, where she is majoring in Sociology. She is also on the pre-medical school course track. Currently, she is working as research assistant at Foundation for Health Research Center. The primary objective of her research is to trace the effects of lower socio-economic status and lack of social security on the health of adolescents; pregnant women and their babies.
She is keenly interested in humanitarian work. Tyler aspires to become a pediatrician, so she can work with vulnerable communities in the future, including orphans. She developed love for orphans when she recently visited an orphanage with her host dad, where she spent quality time with them.
Tyler says she is very excited to work with SME because empowering vulnerable women means empowering their children as well. She strongly adheres to a saying by Albert Einstein:
"Strive not be a success, but rather to be of value. 
Leana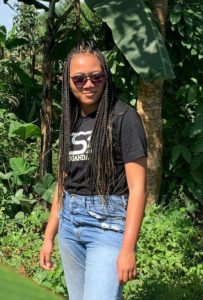 "This is my first time abroad and I was excited about the homestay aspect of the program in Uganda as well as the internship opportunity because it's a chance to really connect with the Ugandan community."
Leana Lindsay is a rising senior at Northwestern University Evanston campus, where she is double majoring in Political Science and Sociology and minoring in African American Studies. On campus, she works with Jumpstart and is also a tour guide. Apart from academic and work responsibilities, you will find Leana submerged into a canvas with multi-layers of paint over her shirt. She believes when you change the life of a single person, the pleasure lingers on and find its place in some corner of your soul.
She came to Uganda to get the first-hand experience of development work. "I have a passion for working with vulnerable communities of women because women provide a lot of support to their family and children, so by empowering women, we empower the entire family," she said. "Also, women are not provided with the same opportunities as men making them extremely vulnerable."
She hopes to work with NGO's like SME to help better conditions and opportunities for women everywhere
Rebecca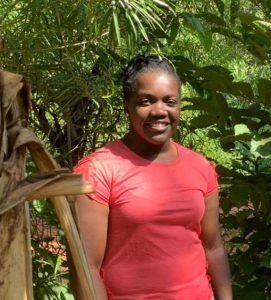 Rebecca is a recent graduate from Northwestern University. She received her degree in Neuroscience along with a minor in Transportation and Logistics. Rebecca decided to intern with Sustain Micro Enterprise this summer because she is passionate about women's empowerment. Working at Sustain this summer will give her the opportunity to implement a sustainable project in an international context.
On campus, Rebecca has been involved with numerous organizations that are centered on community involvement including Books and Breakfast – an organization that provides tutoring and meals for students from under resourced backgrounds, and Project SOAR a one on one mentoring program from 4th – 8th graders. Rebecca was also very involved with The Alliance of African Scholars, Black Mentorship Program, and the Northwestern Community Ensemble.
In her free time, Rebecca enjoys reading novels, hanging out with friends, doing hair, baking, cooking, and listening to music. Some of her favorite novels include Their Eyes Were Watching God, If Beale Street Could Talk, & Black Boy. Rebecca enjoys watching several TV shows including The Bernie Mac Show, Girlfriends, and Sister Sister.
Rebecca is passionate about encouraging others to participate in the class gift so that other students may continue to have enriching and resourceful experiences.
We are happy to be working with this team to empower the vulnerable women and their families to fight poverty.