HEALTHCARE
Health is a very important aspect of the family's well being. Poor health has diverse effects on the performance of the women and ends up reducing the household's incomes. We do provide the women and their families with basic healthcare, preventive information and support including medical treatment for the women and children, sensitization and awareness, hygiene and sanitation.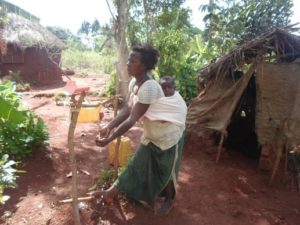 SustainME promotes hand washing, toilet usage and behavior change among the vulnerable women, children and their families. We teach women and children basic hygiene practices such as washing hands after toilet use, hand wash before eating food, covering food and maintenance of hygienic environment.
We train women and their families to build "Tippy Taps" near their toilets so that hand washing after toilet use is easy. With Tippy Taps build near the toilets, families' health improves and saves lives of the women, children and household members.
.