Thank you very much the SME family for your continuous support. With your support, we continue to empower vulnerable women and families to fight poverty through microfinance, small business development, mentorship, business-and-vocational skills and other empowerment programs.
"When women start earning,  they spend 90% of their income back into their families by providing food, school fees and other basic needs to their children"
We are excited to share with you the impact that Sustain Micro Enterprise made in the month of June in the lives of women, children and communities in Uganda.
10 new vulnerable women were recruited on the women's empowerment program with the support and funding from St. Martin's Church, Walsall-UK. We are very grateful to St. Martin's Church for the generous donation they offered to Sustain Micro Enterprise which enabled us to empower new women and families. A total of 10 women were able to access skills and a small start-up loan to get started with their small businesses/income generating activities.
Inspiring gifts, with your great love and support, we received numerous gifts to empower women and families. We have been able to send a child to school, a goat received by a woman, a woman accessed medical treatment, scholastic materials delivered and mosquito net to combat malaria. Our special thanks go to a young teenager Emily for thinking about the vulnerability of women and families in Uganda and choosing to donate 3 inspiring gifts, thank you Emily for supporting our cause.
Business assessment remains a key aspect in evaluating and keeping the women's small businesses growing and serving them better. We visited 60 small women businesses and carried out assessments and evaluation, advised and supported the women to improve on their businesses. We are excited to see the women day by day improve on their businesses, have an increased income and gain profits which they in turn use to provide for their children with food, medical care, and clothing among other basic needs.
Weekly group discussion and mentorship, During our sessions we focused on two areas of business that is financial planning and customer care. We helped the women to learn about how to manage their finances if they are to break the cycle of poverty and why they need to have good customer care in their small businesses. We believe that women need to keep supported with continuous skills and tools to help them manage their livelihoods in a sustainable manner.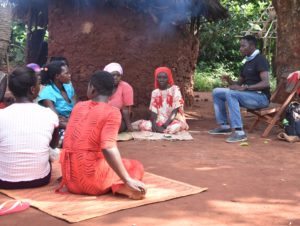 Sustain Micro Enterprise empowers vulnerable women and their families to fight poverty through micro loans, business-and -vocational skills, mentorship, small business development and other empowerment programs.