It is a great opportunity to share with you the women empowerment journey that Sustain Micro Enterprise has been involved in.  Growing up in a small village where women were marginalized and vulnerable, Samuel Wanyagira was inspired to establish Sustain Micro Enterprise to empower women.  While growing up, Samuel noticed how women is his village were being marginalized, owned no property and had less or no opportunity to own an income generating activity yet they had the responsibility of caring for a large number of children with most of the women supporting an average of 7 children. Although, some women were married, they never received support from their husbands; children had no room or bedding to sleep on, children had no opportunity to go to school, finding clothes was very difficult and in fact a number of children walked naked in the villages and in a painful way, families went on empty stomachs. Men in this community cared about polygamous marriages and marrying more than 2 wives was a pride and having many children was prestigious yet they couldn't support them. The responsibility of caring for the children was left in the hands of the vulnerable mothers yet they had no reliable source of income, women therefore had to take on all sorts of jobs ranging from subsistence farming to working on other people's gardens.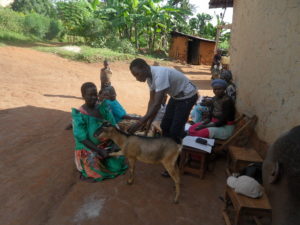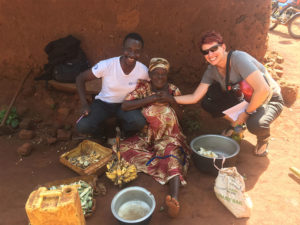 With the circumstances that surrounded the woman, Samuel always had a desire to make a life better for the women and their families. In 2010, Samuel started out on the journey to empowering vulnerable women. Using his personal savings of £72, $113, he was able to empower 5 women with skills to help them run a small business and small loans to get started. Each woman received a small loan of £15, $22.6 which they all used to establish their first businesses. The group of 5 women met weekly and began paying back their small loans as they continued to learn about better ways to support their children and families.
Samuel made follow up to see how the small loans and skills he had shared were impacting on the lives of the women. He was amazed by the results as women reported that they were able to feed their children and earn a daily income. Such impact made Samuel's passion to grow and moved out to serve more women and families.
Today, Sustain Micro Enterprise has been able to serve more than 750 vulnerable women and continues to serve women as we build their capacity to running a small business and an income generating activity so that they are able to provide for their children with a meal, school fees, medical care, clothing and other basic needs.
Samuel Wanyagira is very thankful to Carole Gregory who since 2014 has continued to share her passion and love to support this ministry and ensure that every woman is empowered.
Samuel is thankful to everyone who has supported Sustain Micro Enterprise to serve the women and families.