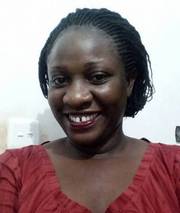 Rosslar Walube
July 21, 2017

Maurine Nantono
August 28, 2021
A social and community worker with 13 years of experience in community development, Wanyagira Samuel founded SustainME in 2010 and serve as the Executive Director. In the intervening years, the organization has grown to serve many vulnerable women and families in poor communities.
Samuel grew up in a community  which was affected by extreme poverty with many families surviving  on less than a dollar everyday. He saw how his mother struggled everyday  to provide for him and his siblings. Because of that, Samuel was inspired to start SustainME to empower vulnerable women and families to escape poverty.
Samuel always dreamt to see a world where women are free from vulnerability with wide range of opportunities to empowerment, education and good health.
He holds a degree in Social Works and Social Administration from Makerere University and a postgraduate certificate in Project Planning and Management.
SustainMe is a non profit organization empowering vulnerable women and families to fight poverty. We empower women through economic development, microfinance, healthcare and food security.