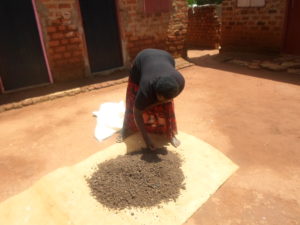 Grace Arayo is one of the many vulnerable women who have had the opportunity to benefit from the microfinance, business skills and mentorship provided by Sustain Micro Enterprise. Grace joined our program with a goal of improving her life and be able to provide for her family.  She received business skills first as a way of preparing her with the skills needed to start up a small business.
After one month of extensive business skills training, Grace was able to receive small loan of £46/$58. Equipped with skills to set up a small business, Grace used her loan to set up a local brewing business. Over the years, her business has grown and generates a profit enough to support her family.
Grace is happy and shares with us that "I have 6 children but it was very difficult for me to support them. Each child had different needs that I had to cover, something which was impossible as I had no dependable source of income. However, the business skills and small loan I received from Sustain Micro Enterprise helped me to set up a lovely local brewing business which I now depend on to cover the basic needs of my children including food and school fees".
"I am now a happy mother, every mother is happy and feels valuable when her children are satisfied and have their needs provided" says Grace. Thank you very much Sustain Micro Enterprise for helping me set up a livelihood for my family.