Thank you very much for supporting Sustain Micro Enterprise. Your support helps us to empower vulnerable women and families to journey out of poverty  . Because of your support, women were able to access small start-up loans, business skills and created small businesses. The businesses and income generating activities makes it possible for the women to provide for their children with food, school fees and other basic needs.
2018 was a great year and we are hoping for a wonderful 2019 and looking to see more women and families empowered.
The month of February was great! Here are the highlights from the month.
Business Visits and Assessment:
The month offered our staff an opportunity to visit and check on the small businesses started and managed by the women. Some of the businesses visited included retail shops, brick making, grocery businesses, second hand clothes, charcoal selling among others. We are happy to note that there is a great improvement in the way the women are running their small businesses due the skills we have offered them. On the visit to the businesses, our business mentor assess how the businesses are doing and offer advice to the women for possible ways of improvement.
Women Group Meeting
Our weekly meetings kicked on well and we met with the women in their village and trust groups. Women's groups provides an opportunity for the women to meet and share with each other on a weekly basis, share about business and family, challenges of the week and get solutions. Through the groups, we helped women to memorize business skills, repay their small loans, make some savings, and commit to work hard to journey out of poverty.
Sponsored Children
We believe in enabling the women and their families to fight poverty. We are very thankful to Cindy and Carole who supported some of the children from struggling families to go to school. 3 children were able start school with your support. Ashraf, Helen and Aisha will not have to worry about school fees and won't be sent back home for lack of school fees. Many children in Uganda still miss out education because of poverty. If a child receives school fees, he/she gets to concentrate at school and is assured of a better future. We are pushing to have more girls go to school to reduce the vulnerability of women.
Women Empowered with Small Startup Loans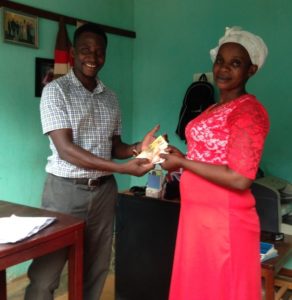 Sustain Micro Enterprise believes that once a woman is empowered, a whole family is empowered. Providing financial access to the vulnerable women through small loans enables women to invest in their small businesses and start earning an income. Throughout the month, more women were able to access small loans as low as £23/$28. Your gift of a small loan helps a woman to access financial support through the small start-up loans.
Goats provides an alternative source of income to the women and their households. SME reached out to families and women and gave out goats. Once a woman or family receives a goat, they are excited! Once their goat begins to reproduce, they can sell the young ones for an income. They also get to enjoy the nutritious milk from the goat. In addition, for a woman and family to receive a goat, it acts as a form of insurance since it can bring income to the family during a time of emergency. Families which received the gift of goats remain happy and thankful.
Join the #SuperWomen Movement
As we celebrate this year's International Women's Day on the 8th-March, we would like to invite you to join our Movement #SuperWomen. Do have a #SuperWoman? Purchase an Inspiring Gift on behalf of a woman who is your SuperWoman-this could be a friend, a colleague, a teacher or a family member. We will create a special personalized eCard for you to send her on the International Women's Day. Together you will be helping another inspiring woman living in Uganda, Africa to fight poverty. For details, follow https://sustainme.org.ug/internationalwomensday/
Ongoing Campaigns
We are currently running 2 campaigns to enable women and families work their way towards sustainability. Please partners with us to support our cause:
A goat for every family Campaign, our goal is to make sure that 5o families receive goats this year. See the poster below for details. A gift of £35/$46 provide a woman and her family with a goat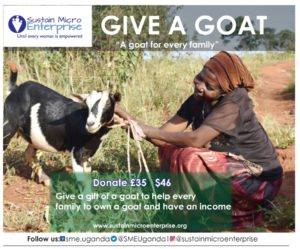 A small loan Empowers a Woman, our goal is to support 150 women to access a small startup loan and start up a small business. A gift of £50/$70 helps a woman to startup a small businesses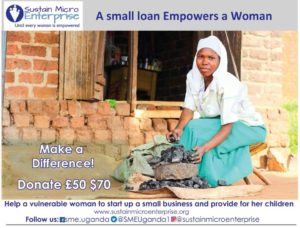 Any amount, small or big can make a difference! If you would like to support any of the causes, please follow this link: https://sustainme.org.ug/get-involved/donate-now/
Sustain Micro Enterprise empowers vulnerable women and families to fight poverty through providing sustainable solutions. Through microfinance, business skills, mentorship, small Business development and other empowerment programs, we help women provide for themselves and their families.
Thank you very much for your continued support. Please keep on supporting us to reach out to more women and families